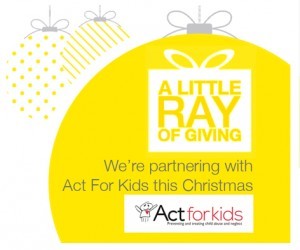 1st December –
Its Countdown to Christmas and the
"Little Ray of Giving"
campaign officially kicks off TODAY!
This year we are partnering with Act for Kids. This is our first year we have joined the "Little Ray of Giving campaign" and are hoping to collect over 70 gifts we can present to the youngsters who have been neglected or abused. Lets put a smile on their faces for this special day.
If you would like to help us achieve this please drop an unwrapped gift into either our Ray White Cairns Beaches Office at Trinity Beach or our office at Smithfield.